A Summer to Sing About!
Thank for singing with us this Summer!
It was a great summer for singing—our eight-week series of Summer Sings was a tremendous success!  It was wonderful to see so many familiar faces, and to meet many people who were new to our Sings.
A special thanks go out to each of our conductors—Ryan Brandau, Colin Britt, Phillip Cheah, Dusty Francis, Patrick Gardner, John Maclay, David Recca, and Knox Sutterfield, and two our fabulous pianists-turned-orchestra, Zach Mo and Riko Higuma.
We look forward to welcoming you back to Judson for our Messiah Sing this December!
Learn more about our Summer Sings
---
Announcing our 2023-2024 Season!
The West Village Chorale is excited to announce our 2023-2024 performance season!  Mark your calendars and plan to join us!
This fall, the Chorale will be performing not one but two concerts—on Sunday, November 5th we present A Fall Choral Harvest, a program featuring classic and contemporary music of American composers with themes of gratitude.
Our annual Holiday Concert returns to Judson on Sunday, December 17th, celebrating the season with it music of the many traditions.  Joining us to ring in the holidays are our friends Calliope Brass!
As we flip the calendar to 2024 (!) we're excited to be collaborating with the New York City Master Chorale for our winter concert in March, which will feature choral music for double choir (of course!) along with individual performances by each group.
And closing our season on Sunday, June 2nd, will be our spring concert "Strings Attached" on Sunday, June 2nd, which highlights music for choir and string quartet and piano.
More details (including ticket purchase links) to follow!
---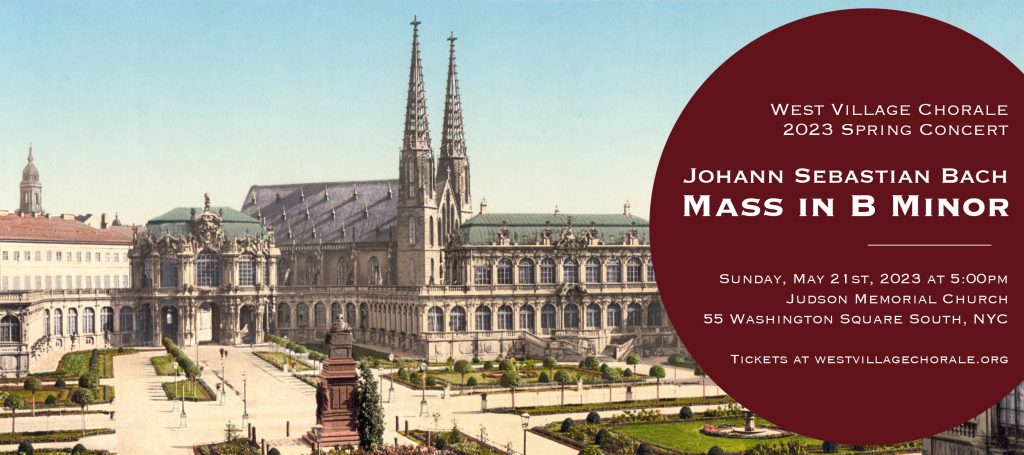 Thank you for attending our Mass in B Minor!
A heartfelt Gratias Agimus Tibi to everyone who joined us for our May 21st performance of Johann Sebastian Bach's Mass in B Minor at Judson Memorial Church!
We were thrilled to bring this monumental work to the magnificent acoustic of our home at Judson Memorial Church, and to perform with an orchestra (and a Baroque orchestra at that!) for the first time in five years. And the transcendent voices of our soloists—sopranos Sherezade Panthaki and Sonya Headlam, mezzo-soprano Debi Wong, tenor Dann Coakwell and bass-baritone Justin Beck made the evening even more special.
This concert represented the culmination of months of intense work and preparation (not to mention fundraising!) and we are incredibly grateful to everyone who made it possible!