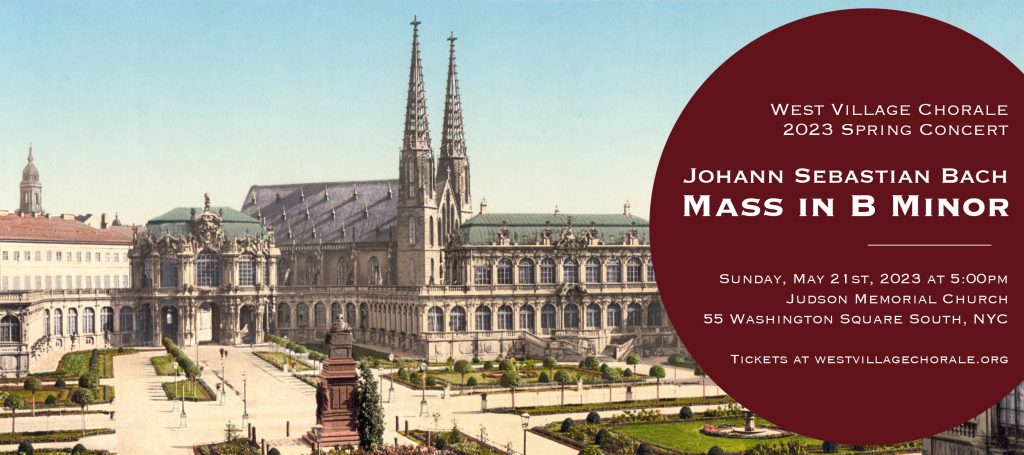 Spring Concert: Johann Sebastian Bach's Mass in B Minor
This weekend—SOLD OUT!
**Please note that we will NOT be able to offer door sales or standing room at today's performance.**
For our Spring Concert, we're excited to be bringing the monumental Mass in B Minor of J.S. Bach—with full period orchestra—to the magnificent acoustic of our home at Judson Memorial Church.
Joining the Chorale is a quintet of world-class soloists—sopranos Sherezade Panthaki and Sonya Headlam, mezzo-soprano Debi Wong, tenor Dann Coakwell and bass-baritone Justin Beck.
This performance represents the culmination of months of intense work and preparation (not to mention fundraising!) and is our first time performing with a full orchestra in five years.  You won't want to miss it—mark your calendars for Sunday, May 21st!
Learn more and meet our soloists
---
Summertime…and the [singing] is easy
TL:DR – Summer Sings are back!
We're putting the final touches on our schedule, but please mark your calendars and plan to join us Mondays in July and August to sing with us at Judson!
Please join us beginning Monday, July 10th and continuing each Monday through August 28th, as we welcome the return of our Summer Sing series!  We are excited to host some of the city's most talented and sought-after conductors who will lead us through beloved choral works of past and present, with live piano accompaniment, in Judson's wonderful (and air-conditioned!) acoustic.
---
A Toast…to you!
Thank you to everyone who joined us at Judson for the return of Viva Vino!  It was wonderful to welcome back our friends and supporters for another fabulous evening of wine and song.
We are incredibly grateful for our evening's performers—Sopranos Sarah Blaze and Melissa Cintron, mezzo-soprano Sarah Nelson Craft, tenors John Bellemer and Travis Leland, and bass-baritone Justin Beck.
Special thanks to Patrick Watson of Smith & Vine and our own tenor James Dantas, DipWSET for curating and walking us through the evening's wine flight, and to Elena Belli and Henco Espag for their beautiful accompaniment.
And thank you to everyone who supported us by participating in our raffles and silent auction to further add to the success of Viva Vino 6!
Pictures to follow!
---
Want to sing with us? Audition for the WVC!
The WVC is excited to welcome new singers in all voice parts!
If you're an experienced singer looking for a home in the city this fall, sign up to join our Artistic Director for a virtual audition!
For more information about our group and the audition process, please see our Auditions page.
We hope to sing with you soon!
---