Spring is here!
**TODAY!** 

"Vigil for Peace"—Sunday, May 22nd!
**Our Online Box Office is closed, but there will be some tickets available at the door ($30 general/$20 student with ID).**
Led by our Artistic Director and Conductor Colin Britt, the program will feature sacred works by Ukrainian composers past and present, including Dmitry Bortniansky's Dostoyno Yest and excerpts from Roman Hurko's Vespers, along with the transcendent All-Night Vigil (Op. 37) of Sergei Rachmaninoff—a piece widely acknowledged to be one of the most stunning in the choral canon. We are thrilled to bring these works to the magnificent acoustic of our home at Judson Memorial Church.
The West Village Chorale sings in solidarity with Ukraine for freedom and self-determination, against imperialism and war. Our commitment, which we have embedded into this program, is to peace and justice above all. We will also donate a portion of the concert's proceeds to Razom for Ukraine, a New York City-based charity dedicated to building a pathway to a better future for Ukraine.
Advance purchase is strongly recommended as COVID limitations may impact capacity.
Please note that audience members are required to provide proof of vaccination for admission and must remain masked at all times while in Judson.
---

THANK YOU!
WVC's 50th Anniversary Gala Concert:
"A Jubilant Song"
A heartfelt thank you to everyone who joined us to celebrate at our Fiftieth Anniversary Gala Concert, "A Jubilant Song," in March!  We were thrilled to mark our first half-century of bringing choral music to the West Village—and beyond—in the company of our friends and supporters!
Fifty years in the life of our choral family—that's something like two thousand weekly rehearsals, more than two hundred singers (based on just the last ten years!), a hundred-plus concerts, hundreds of Summer Sings, nearly fifty Messiah Sings and as many Caroling Walks, five Artistic Directors, at least four international tours—all supported by countless tickets purchased and donations offered by our many friends and supporters over the years!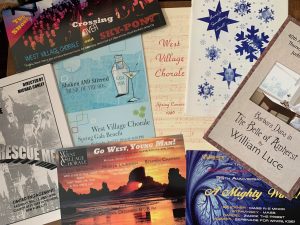 As part of this golden anniversary program, included a world premiere of a co-commissioned piece by Karen Siegel, and new pieces written for the occasion by our Artistic Director and Conductor Colin Britt and former Artistic Director Michael Conley!
We were pleased to welcome back the WVC's former conductors Gwen Gould, Andrew Megill, Michael Conley, and Malcolm J. Merriweather,  with our beloved pianist Elena Belli.
Want a trip in the way-back machine?  Check out this slide show (PDF) put together by Gwen Gould showing programs from the years following the Chorale's founding.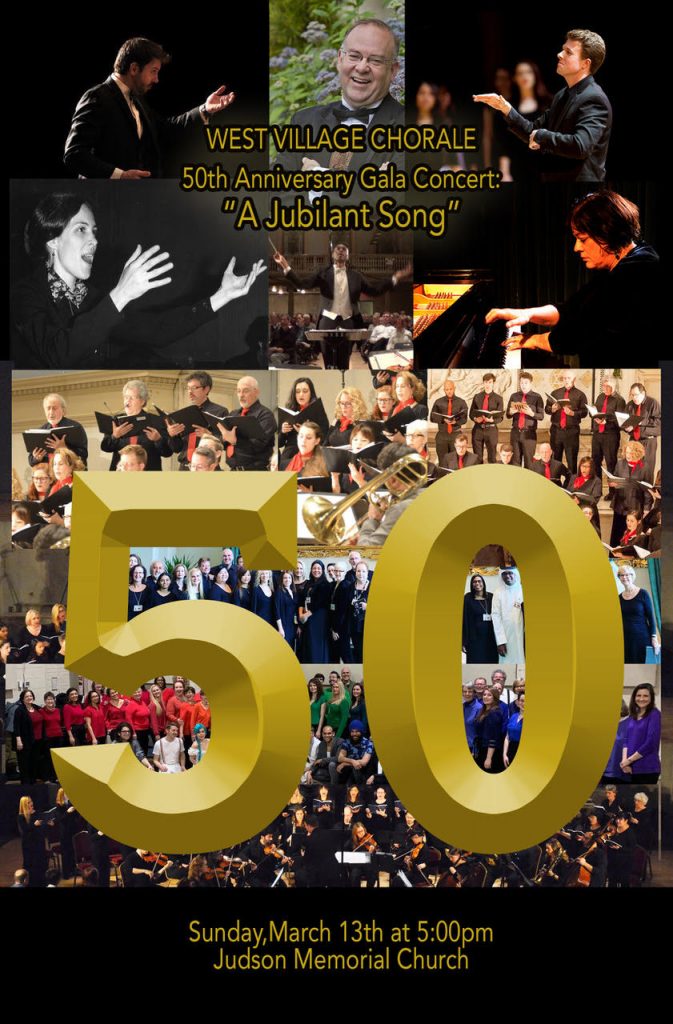 ---
We made the paper!
Check out the article in this weekend's (12-11/12) New York Times about the return of real live singing (!) to NYC, featuring our very own "Messiah" Sing and remarks some of our members/Messiah-singers.  Thanks to Times reporter Bob Morris for the mention!  And thanks to everyone who joined us at Judson for our first live public event in nearly two years!
---
And coming later this season…
The 2021-2022 season concludes on Sunday, May 22nd, with our Spring Concert, where we bring to Judson the hauntingly beautiful All-Night Vigil of Sergei Rachmaninoff—the very piece we were days from presenting when the 2020 COVID lockdown forced us to cancel our performance.  We're excited to get a second chance to share this powerful and moving work!
---
Ordering Online?  Support the WVC While You Shop


If you are shopping online at Amazon.com this spring/summer, you can support the WVC at the same time!
Through its AmazonSmile program, the online retailer allows you to chose a charity to support; 0.5% of the value of your eligible purchases will then be donated to the charitable organization of your choice.  We've been fortunate to have participated in this program for several years now, and the numbers add up!
To get started, instead of going to www.amazon.com, go to https://smile.amazon.com.  When you see "Select Charity," look for the West Village Chorale Inc"!  From there, you can shop as you normally would, and know that a portion of your spending will help support the WVC!