Colin Britt, Artistic Director and Conductor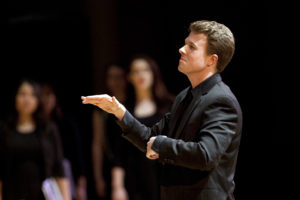 Originally from Maine, Colin holds a bachelor's degree in music composition from the Hartt School, a master's degree in choral conducting from the Yale School of Music, and a doctorate in choral conducting from Rutgers University.
He has conducted Amuse Singers, the Rutgers University Choir, the Hartford Chorale Chamber Singers, the Hartt Choir and Camerata, North River Sing, and has sung and conducted with C4 (The Choral Composer-Conductor Collective).
Colin's compositions have been performed by ensembles at Rutgers, Westminster Choir College, Hartt, Yale, and Seraphic Fire, the Yale Schola Cantorum, the Yale Alumni Chorus, C4, VOCE, and the Riverside Choral Society, and by ensembles across the country and on four continents.
In addition to conducting the West Village Chorale, Colin currently serves as Choir Director at Rutgers Preparatory School and as music director for Grace Church Van Vorst in Jersey City.   In Fall 2016, he served on the conducting faculty at SUNY New Paltz.  He lives in Jersey City with his wife, actress Victoria Britt.
Elena Belli, Pianist and Assistant Conductor
Elena Belli, pianist and assistant conductor, is a versatile concert artist and influential teacher. As a performer she has appeared nationally and internationally as both a soloist and chamber musician. In New York she appears regularly with prestigious instrumentalists and vocalists from leading ensembles including the Metropolitan Opera, New York City Opera, the New York Philharmonic and the Orchestra of St. Luke's. She has also toured throughout Europe with members of the Berlin Philharmonic. New York concert venues have ranged from residencies at St. Mark's Church in the Bowery and the Empire Center for the Performing Arts in Albany, to performances at Merkin Hall, CAMI Hall, Weill Recital Hall at Carnegie Hall and Lincoln Center, as well as multiple broadcasts on WQXR and WNYC FM Radio.
Her career is notable for its consistent tenure with ensembles including The Music in the Mountains Festival Chamber Players, the Lumese Piano Trio, Poné Ensemble for New Music, the Da Salò Chamber Artists, and the New-York-based ensemble Musical Chairs. Her expertise extends to contemporary music, including a broad array of World premieres, some of which were written expressly for her. She has also performed as a soloist with the Columbia Festival Orchestra, the Hudson Valley Philharmonic, Connecticut Grand Opera and Orchestra, and the Music in the Mountains Festival Orchestra.
Ms. Belli holds both Bachelor's and Master's degrees from Manhattan School of Music. She is considered by her colleagues to be an extraordinarily effective educator, teaching developing young pianists passion, joy, solid musicianship and consummate technique. Her students consistently excel at competitions, and music remains a part of their lives forever. Ms. Belli is currently Chairperson and Coordinator of the AMTL Young Musicians Concert at Carnegie Recital Hall. Piano faculty positions include the Manhattan School of Music Precollege Division, Concordia College and the Hoff-Barthelson Music School.
A devoted and valuable part of the WVC community, Ms. Belli has been the pianist for the West Village Chorale since 1988.
The West Village Chorale
The West Village Chorale is a 70-voice avocational ensemble based out of Judson Memorial Church, at the south end of Washington Square Park.  Our members are talented avocational singers with varied professional backgrounds (attorneys to Zumba instructors) but one shared goal: to make beautiful music. Our members give voice, leadership and passion to the Chorale.
We perform several concerts per year, with repertoire ranging from traditional choral staples to contemporary pieces (including several world premieres and commissions in recent years).
We also host an annual Caroling Walk that regularly sends hundreds of singers out around the Village, and a series of weekly Summer Sings (which recently completed their 47th summer), which allow the many choral singers in the area the chance to get together and sing some classic pieces while the choruses are summer hiatus.
And because we are lucky enough to make music in New York, we've also had the opportunity to participate in a variety of other activities—including singing with Patti LuPone and indie rock band Sky-Pony at the 2016 Park Avenue Armory Gala, and other private events.  This October, the Chorale was thrilled to participate in the Mile-Long Opera on NYC's High Line.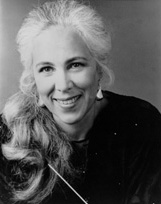 Our History
Founded in 1971 by Gwen Gould, the West Village Chorale is a non-sectarian, community based, not-for-profit organization. From January 1998-June 2000, the Chorale was led by Dr. Andrew Megill, and from September 2000-July 2015, Michael Conley was the Chorale's Artistic Director and Conductor.  For the 2015-16 season, the Chorale was led by Malcolm J. Merriweather.
In 2010, after many years based at the Church of St. Luke in the Fields, the Chorale moved to the historic Judson Memorial Church, located on the south side of Washington Square, at the heart of the West Village.
The Chorale has always performed an eclectic repertoire, including many styles of traditional and contemporary choral music, as well as commissions, performances and premieres of works by local composers including Robert De Cormier, Michael Philip Ward, Robert Beckhard, Jerome Jolles, David Goldstein, and previous Music Director Michael Conley.
The Chorale had its beginnings in service to the community and has continued that tradition for the past 40 years. Our annual Caroling Walk through the streets of Greenwich Village has become a popular holiday tradition, as has our Messiah Sing. The 10-week Summer Sings series provides a forum for music lovers to sing classic choral works, each led by one of the New York area's outstanding choral conductors. The West Village Chorale is a member of the New York Choral Consortium and is listed on the Vocal Area Network and Choral Net.