Audition for the West Village Chorale!
2022-2023 Season Auditions
Would you like to sing an extraordinarily beautiful range of works under the baton of an inspired teacher and conductor?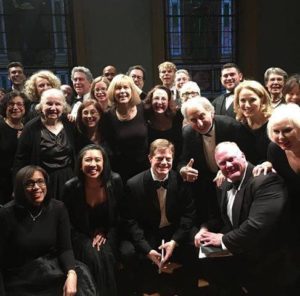 Do you want to be part of a group in which you make great music, make great new friends—and make a real difference?
Then come sing with the West Village Chorale!  Our Artistic Director, Colin Britt, will be hearing auditions for all voice parts by appointment on Zoom.
We are a highly participatory choir, composed of experienced volunteer singers with strong sight reading ability, excellent vocal technique, the ability to blend—and the willingness to contribute their other diverse gifts (photography, graphic/website design, fundraising skills, culinary artistry) towards the success of our work.
We keep our membership to around 60 people, so every voice and every personality counts. And we are always looking for new voices and new talents to add to our mix!
Beyond the two-or three-concert cycles of a typical choir, we run typically two fundraisers per season, as well as our series of Summer Sings and our holiday events—an open sing of Handel's Messiah and a caroling walk that regularly sends hundreds of enthusiastic singers around the streets of our West Village neighborhood.
Beyond our concerts, Summer Sings and holiday events, we're very active in events across the city, because there are always other opportunities that present themselves, because, to quote Hamilton, we sing in "the greatest city in the world!"  The past couple seasons in particular have included some fun "extras"—from backing up Patti LuPone (yes, that Patti LuPone) and indie rock band Sky-Pony in October 2016, to singing at weddings, holiday parties and charity benefits, to performing in San Francisco in May 2017 with our former director Michael Conley's premiere of his Appalachian Requiem, and performing in David Lang's amazing Mile-Long Opera on the High Line in October 2018.  We've had a blast and hope you'll consider joining us!
Rehearsals are Tuesday evenings from 7:00 to 9:45 pm at Judson Memorial Church, on Washington Square South, in the beautiful Greenwich Village section of Manhattan.
To schedule an audition, please contact us at westvillagechorale@gmail.com and fill out this form.
The West Village Chorale takes the health and safety of its members very seriously. At this time all members of the chorale are required to provide proof of COVID vaccination and at least one booster shot in order to participate in rehearsals and concerts. Masks that cover the nose and mouth must be worn at all times. 
Hope to Sing with You Soon!