WVC 2017‐18 Season
All concerts will be held at our West Village home, Judson Memorial Church
55 Washington Square South (at Thompson Street) Map
---
Contemporary Choral Gems
Sunday, May 20, 2018 at 5:00pm
Our final performance of the season will feature Ešenvald's Northern Lights, as well as works by several other contemporary composers, including Betinis, Gjeilo, Whitacre, Olson, Trumbore, Szymko, and a premiere of a piece by our own Colin Britt.
---
Earlier this Season:
Darkness and Light
Sunday, March 11th, 2018 at 5:00pm
Our winter concert program for chorus and orchestra explores the concept of darkness and light through a spiritual lens, drawing on 20th twentieth century works by three composers with distinct personal styles.
The first, a setting of the Seven Last Words from the Cross by Scottish composer James MacMillan, exegetes the seven final phrases attributed by the four Gospels to Jesus during his crucifixion and death.
The second, Samuel Barber's Adagio for Strings, is perhaps the most universally and emotionally beloved American elegy of the last hundred years.
And the final piece, Morten Lauridsen's Lux Aeterna, is a lush and luminous expression of hope and assurance of life after death. We invite you to contemplate the opposition of darkness and light through these contrasting works, and hope that the musical chiaroscuro of this program illuminates themes in each piece that otherwise might not have been obvious.
–from Program Notes, by Colin Britt
---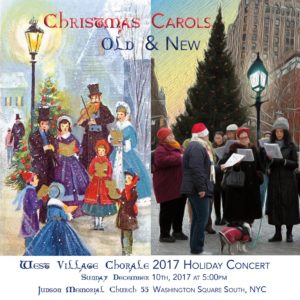 Christmas Carols Old and New
Sunday, December 10th, 2017 at 5:00pm 
Our annual holiday concert features a variety of sacred and secular carols spanning four centuries, including selections from Britten's A Ceremony of Carols, works by Betinis, Biebl, Pärt, Rachmaninoff, and Victoria, ornamented with traditional holiday favorites to sing along.