Helluvatown = Helluvanight!
Thank you from the WVC!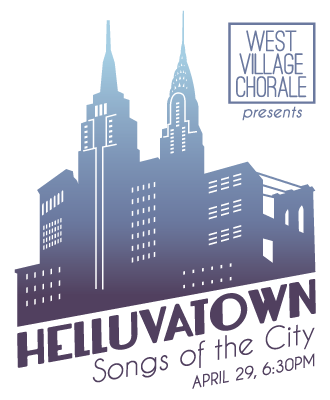 Our amazing headliners and generous supporters made Gala 2015 a wonderful success! 
We are indebted to our Emcee Klea Blackhurst (with her ukelele), and to the wonderful artists who shared their talents in support of the WVC–Henry Krieger, Craig Pomranz, Chuck Muckle, Charles Michel and Anita Hollander and Jimmy Roberts and Lawrence Craig!
And of course, we are grateful to our Gala audience, whose support will allow the Chorale to continue its musical mission!
Thank you for sharing this amazing night with us!
Henry Krieger: Born and raised in New York, Mr. Krieger is an American composer who has written the music for the Broadway musicals Dreamgirls, The Tap Dance Kid, and Side Show, as well as other works for musical theater. Among the many awards and accolades he has earned, Mr. Krieger was nominated for the Tony Award for Best Score for Dreamgirls, won two Grammy awards for Dreamgirls, one for 2007 Best Song Written for Motion Picture, Television or Other Visual Media, and one for the 1982 Best Show Album; and received three Academy Award nominations for the songs he wrote for the 2006 film. The Tap Dance Kid won two Tony's in 1983. Side Show received four Tony nominations, including for best Show, in 1997. Among other projects, Mr. Krieger is currently working on the score for a musical about Tammy Faye Baker starring Kristin Chenoweth as Tammy Faye with lyrics by David Yazbek and directed by Robert Longbottom, the director of the Broadway production of Side Show and the 2009 revival of Dreamgirls. A new production of Side Show ran at the Kennedy Center in Washington, DC, last June and July, directed by Bill Condon, the director of the Dreamgirls film. Among other projects, Mr. Krieger is currently working on the score for a musical based on the 1984 film The Flamingo Kid.
Klea Blackhurst: An American actress with a stellar career in theatre, music, TV and radio in the US as well as the London stage, Klea is best known for Everything the Traffic Will Allow, her tribute to Ethel Merman. She has a recurring role as deranged Nancy Grace parody Shelby Cross on The Onion News Network on IFC. She has also appeared on The Caroline Rhea Show, The Rosie O'Donnell Show, Sesame Street, Law & Order: SVU, and A Prairie Home Companion. She made her screen debut in the award-winning short film, Andy Across the Water written and directed by Leo Geter. Among many accolades, Ms. Blackhurst earned the inaugural Special Achievement Award from Time Out New York magazine for her performance in Everything the Traffic Will Allow in 2001. Ms. Blackhurst's recordings include: Dreaming of a Song: The Music of Hoagy Carmichael; Autumn in New York: Vernon Duke's Broadway; and Everything the Traffic Will Allow. She is also featured in Jules Styne in Hollywood on the PS Classics label, and the original cast recordings of Bingo and Radio Gals; Lost in Boston IV; Unsung Irving Berlin; and The Best of Off Broadway.
Jimmy Roberts is the composer of the second-longest running Off-Broadway musical in theater history (I Love You, You're Perfect, Now Change–nominated for the Outer Critics Circle and Drama Desk awards). Written with playwright Joe DiPietro, I Love You received both the Drama Desk and Outer Critics Circle nominations as Best Musical when it opened in 1996. It has since played in all fifty states as well as over 25 countries around the world. Mr. Roberts also composed The Thing About Men (2003), again with Joe DiPietro's book and lyrics (New York Outer Critics Circle Award for Best Musical). Songs were featured in two other Off-Broadway musicals: A…My Name Is Still Alice and Pets! For television, he composed the theme for the weekly PBS show Theater Talk. His children's musical, The Velveteen Rabbit, toured the United States for well over a decade. Mr. Roberts also created and performed special piano arrangements for the Grand Piano Marathon at Merkin Concert Hall (2008) and is currently at work on two new musicals: All Dressed Up and Nowhere to Go (from a play by Catherine Filloux) and The Truth About Light with book and lyrics by British author Warner Brown. Other performances include: Merkin Concert Hall; the Time Warner Center; the 92nd Street Y; Steinway Hall; St. Peter's Church (Midday Jazz); and the National Arts Club in New York. Other engagements include the Catalina Jazz Club (Los Angeles); Mark Twain House (Hartford); and the "Music at Meyer" series (San Francisco).
Craig Pomranz was in elementary school when he discovered he could overcome his tremendous shyness through music. He auditioned for Camelot at The Muny (the nation's oldest and largest outdoor theater, located in St. Louis, MO) and won the role of Tom of Warwick, opposite John Cullum and Sally Ann Howes, thus launching a professional career. Years later, when he arrived in New York, it wasn't long before he was playing to sold-out crowds at three clubs at once: Freddy's, East Five Three, and Mickey's. He performed at Ted Hook's Onstage, The Duplex, The Ballroom, The Horn of Plenty, and (precomedy) Caroline's. Craig next became a highly sought-after studio singer, and he worked frequently with composer/artists signed to Arista records.  He recorded with Barbara Cook and Faith Prince, among others, and contributed to cast recordings for The Secret Garden, Rags, and Breakfast at Tiffany's, to name a few.  Hearing him sing—whether in person or on his CD, My Heart Don't Skip a Beat—you're treated to a dazzling voice and a way with the audience that's descended from a great saloon style. His performances in support of My Heart Don't Skip a Beat have created a buzz for more, with hotly anticipated return bookings at both the Metropolitan Room in Manhattan and the Gardenia in Hollywood in the coming months.