Greenwich Village Caroling Walk – CANCELLED
Unfortunately, in light of recent news of breakthrough COVID cases in New York City and the surrounding area, we've made the decision to cancel our annual caroling walk, scheduled for Saturday, December 18th.
Our Board had a long and serious discussion about this and did not come to this decision lightly–but we're hearing of more and more breakthrough cases and cancellations/closures for other local events and venues.
We apologize for the short notice but believe that this is the best decision to keep our community safe and healthy.
Our best wishes for a happy holiday, and hope to sing with you LIVE next year!
---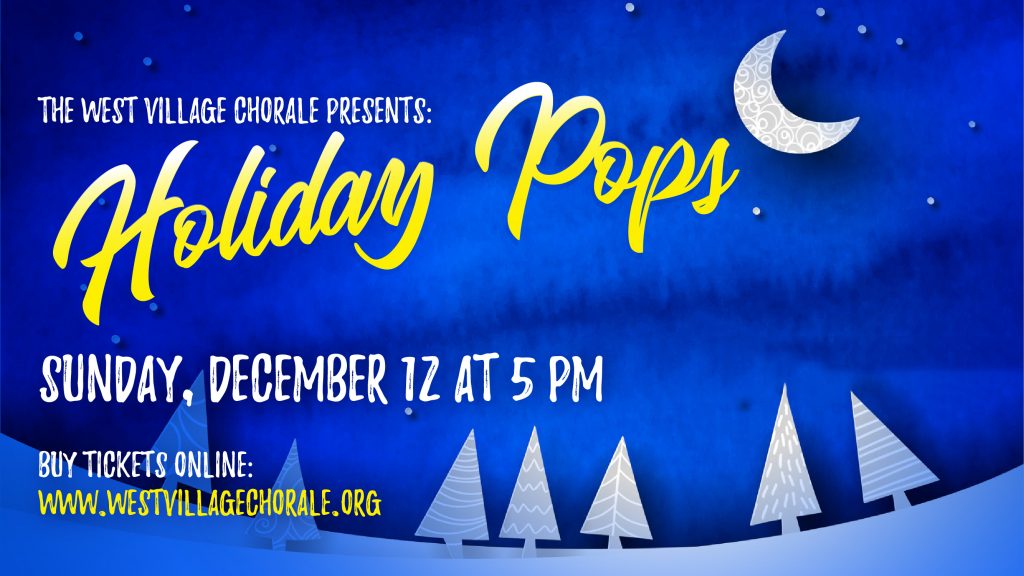 2021 Holiday Concert: Holiday Pops


Thank you to everyone who came to our in-person Holiday Pops concert, or who attended via Zoom!  We were very excited to be able to be together again and present live music to a real live audience!  Special thanks to our Artistic Director, Colin Britt, our pianist and Assistant Conductor, Elena Belli, and our Zoom/recording guru Liam McNamara.  We hope to be able to share some selections from the concert with you soon!
---
We made the paper!
Check out the article in this weekend's (12-11/12) New York Times about the return of real live singing (!) to NYC, featuring our very own "Messiah" Sing and remarks some of our members/Messiah-singers.  Thanks to Times reporter Bob Morris for the mention!  And thanks to everyone who joined us at Judson for our first live public event in nearly two years!
---
And coming later this season…
Mark your calendars for Sunday, March 13th, 2022, as we celebrate our golden anniversary (!) with a gala performance welcoming back each of our beloved former directors—from our founder Gwen Gould (Artistic Director from 1971-1998); Dr. Andrew Megill (1998-2000); Michael Conley (2000-2015); Dr. Malcolm J. Merriweather (2015-2016).
The 2021-2022 season concludes on Sunday, May 22nd, with our Spring Concert, where we bring to Judson the hauntingly beautiful All-Night Vigil of Sergei Rachmaninoff—the very piece we were days from presenting when the 2020 COVID lockdown forced us to cancel our performance.  We're excited to get a second chance to share this powerful and moving work!
---
Ordering Online?  Support the WVC While You Shop


If you are shopping online at Amazon.com this spring/summer, you can support the WVC at the same time!
Through its AmazonSmile program, the online retailer allows you to chose a charity to support; 0.5% of the value of your eligible purchases will then be donated to the charitable organization of your choice.  We've been fortunate to have participated in this program for several years now, and the numbers add up!
To get started, instead of going to www.amazon.com, go to https://smile.amazon.com.  When you see "Select Charity," look for the West Village Chorale Inc"!  From there, you can shop as you normally would, and know that a portion of your spending will help support the WVC!