Thank You: Journey On!
Sunday, March 1st, 6PM
Thanks to all of our friends and supporters who made the Journey through the snow to our concert!  We had a lot of fun bringing "Titanic" to life and making the trip with you through Michael's stunning program.  Journey on, Friends!   Pics of us in our Titanic finery to follow, for sure!
---
Next Up?  WVC Gala 2015
Helluvatown – Songs of the City
Wednesday, April 29th, 2015 @ 6:30pm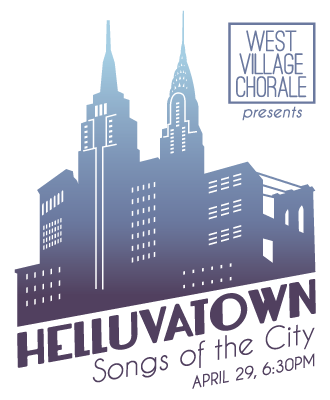 The West Village Chorale is thrilled to announce our 2015 gala benefit–Helluvatown: Songs of the City.  Join us for a festive evening of song, cool cocktails and New York noshes at our very own West Village home–the historic Judson Memorial Church.
The evening will feature some of New York's finest talent, performing tunes inspired by this awesome town we call home–songs that tug at the heartstrings, put a spring in your step and remind you how much there is to love in our great city!
Headliners include composer Henry Krieger (Dream Girls, Side Show) Grammy winner, Tony and Academy Award nominee (and all-round nice guy!); multitalented actress/singer Klea Blackhurst, whose stellar career includes TV and Broadway and London stages, award-winning Broadway composer Jimmy Roberts (I Love You, You're Perfect, Now Change; The Velveteen Rabbit), cabaret force-of-nature Craig Pomranz and more!
Pre-sale tickets are available now online.  Hope to see you there!
---
Announcing our 2014-15 Season
The West Village Chorale is thrilled to announce our concert series for the upcoming 2014-15 season.  Beginning with our annual Holiday concerts in December, our season includes a reflection on personal, spiritual and musical journeys in March, and an exploration of the works of women composers and themes of womanhood in May.  For more information, click here.
---
Choir For Hire
The West Village Chorale offers choral music to enhance your wedding or any special occasion – joyous, solemn, celebratory, or memorial. Let us work with you to provide the beautiful, inspiring music for your special day.
---
Appalachian Requiem Recording
We are pleased to announce the release of the world-premiere recording of Appalachian Requiem, by the West Village Chorale's artistic director and conductor, Michael Conley.