Our 2017 Summer Sing Schedule is Here!
Time to hit the beach—and the Bach!
West Village Chorale Summer Sings are back, for their 46th Season! 
Join us at Judson on Mondays starting June 12th to sing great choral works under the direction of some of New York's finest conductors.
The West Village Chorale's Summer Sings are a friendly, informal way to experience some choral masterpieces from the inside.  Each week features different pieces from the choral canon, from classics by Bach, Brahms and Mozart to 20th century favorites by Bernstein, Thompson, and Lauridsen.
For the price of admission ($15 general / $10 student with ID), we'll lend you a score (or bring your own!) and provide light refreshments.
Tickets are available at the door.
Or, save more than 20%! A season subscription for all eleven sings is just $130.
Note: Sings on Monday 6/19 and 6/26 begin at 7:15PM; all others begin at 7:30PM
---
WVC Spring Concert: American Voices
Thank you!
We'd like to offer a heartfelt thank you to the wonderful "American Voices" audience who filled Judson for our final concert of the 2016-17 season.
We loved presenting this beautiful program and even more thrilled to have such a wonderful crowd!
A special thanks to our guest artists cellist David Blasher and percussionist Victor Caccese who brought added depth—and thunder!—to our performance.
And, as always, to our fearless and faithful musical leaders Colin Britt and Elena Belli, we are grateful for your vision, artistry, enthusiasm and encouragement.  It is a privilege to share our musical journey with you!

---
Sing with the WVC—Audition for our 2017-2018 Season!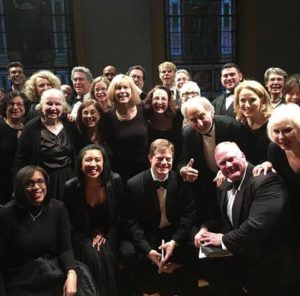 Not to rush the summer (when there's so much singing still to be done and fun to be had!), but…
Thinking about joining a choir and finding a musical "family" in NYC?We hope you'll consider auditioning to join the WVC!
We'll be holding auditions this summer and early fall for new members for our 2017-2018 season.