Choral Boot Camp is Back—Saturday, September 12th!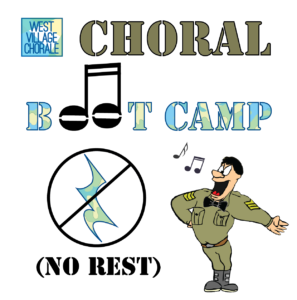 The summer is over, and the choral season is upon us!  Are you ready to take on whatever this upcoming choral season has to offer?
Join the WVC for another installment of our popular Choral Boot Camp (Virtual version!)
Date: Saturday, September 12th
Time: 10:00 am – 2:30 pm
Location: via Zoom
Registration: $25
Enroll here (upon completion of payment you'll be taken to the Zoom registration screen.)
This year's installment offers sessions on a number of timely topics, including vocal health and warmups, yoga for singers, musicianship/score study, and—in response to our current choral reality—sound equipment and recording for virtual choir videos.
Presenters include: 
Benjamin Rauch, of University of Hartford's Hartt School;
Lyric baritone Tim Krol;
Patrick Gardner, Director of the Riverside Choral Society and Director of Choral Activities at Rutgers University's Mason Gross School of the Arts;
Philip Cheah, Music Director of Central City Chorus and Amuse Singers;
Colin Britt, Artistic Director and Conductor of the West Village Chorale; and
Ana Beranek, voice-over artist, singer and actress
Don't miss this opportunity to "tune up" for the coming season and learn some valuable new skills!
---
Thank you, Summer Singers!

A Summer Unlike Any Other
Thank you to everyone who "joined" us for our weekly Virtual Summer Sings this summer!  Of course it was no substitute for being together and singing (and snacking) communally at Judson, but the Sings nonetheless allowed us to keep some choral music in our lives in a strange and challenging summer.
Thanks also for your generous donations to fund the series, and your suggestions as our format evolved.  We hope to be able to offer additional "Cyber Sings" over the course of this coming season (including our "Messiah Sing" this December!).
If you missed any of our sings, recordings are available on our YouTube channel!
---
Ordering Online?  Support the WVC While You Shop


If you are shopping online at Amazon.com this spring/summer, you can support the WVC at the same time!
Through its AmazonSmile program, the online retailer allows you to chose a charity to support; 0.5% of the value of your eligible purchases will then be donated to the charitable organization of your choice.  We've been fortunate to have participated in this program for several years now, and the numbers add up!
To get started, instead of going to www.amazon.com, go to https://smile.amazon.com.  When you see "Select Charity," look for the West Village Chorale Inc"!  From there, you can shop as you normally would, and know that a portion of your spending will help support the WVC!