Announcing our 2017-2018 Season!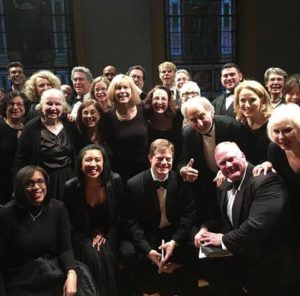 We're super excited to start work on the music we have planned for this upcoming season–to traditional holiday favorites and "new classics" for our December "Christmas Carols Old and New" concert, to the deeply personal and moving works of Macmillan and Lauridsen through which we'll explore themes of "Darkness and Light" in March, to new (and new to us!) "Contemporary Choral Gems," in May, which features both water glasses and the premiere of a piece by our own Colin Britt.
---
WVC Choral Bootcamp

Get in Shape for the new choral Season!
The West Village Chorale will be sponsoring its first-ever Choral Boot Camp on Saturday, October 7, 2017 from 11:00AM to 2:00PM.
Open to all of our friends in the choral community of NYC (and beyond!) this half-day intensive workshop offers an amazing opportunity to learn from some of New York's finest professional singers and musicians.
Sessions will include sessions on maintaining vocal health, proper singing techniques, and sight reading.  The cost is $40 per person. Space is limited, so reserve now!  
Private voice lessons or vocal coaching in New York can cost well upwards of $100 per hour, so this is a real bargain to get some singing tips from the pros!
---
Oktoberfest Returns to Judson!



Raise a pint and join the singing! 

We're bringing back our hugely popular benefit evening of beer, brats, and tunes—join us for our second annual Oktoberfest on Wednesday, October 25th at 6:30pm.
We're welcoming back our friend Patrick Watson of Stinky Bklyn and Smith and Vine to guide us through the flight of brews he'll pair with the evening's music, and our friend and Emcee Laura Green will lead a group of wonderful artists in fun and festive singing!
General Admission tickets are $60 per person and are available online now.  Get yours now and join us at the Judson Brauhaus!