Choral Boot Camp is Back!
Join us for our second Choral Boot Camp for workshops on several choral singing and vocal health topics led by industry pros.
Date/Time: Saturday, February 2nd / 2:00 – 5:00pm
Location: Ripley Grier Studios, 520 Eighth Avenue, between 36th-37th Streets, 16th  Floor
Cost: $40
Registration/Tickets: Online
---
Happy Holidays from the WVC!
Thank you to everyone who packed the house at Judson for our recent Holidays Around the World concert and our other December events.  We had a wonderful time sharing all of this season's music with you!
Best wishes to all of our friends and supporters for a happy, healthy and harmonious 2019!
Visit our Youtube Channel and watch selections from the concert.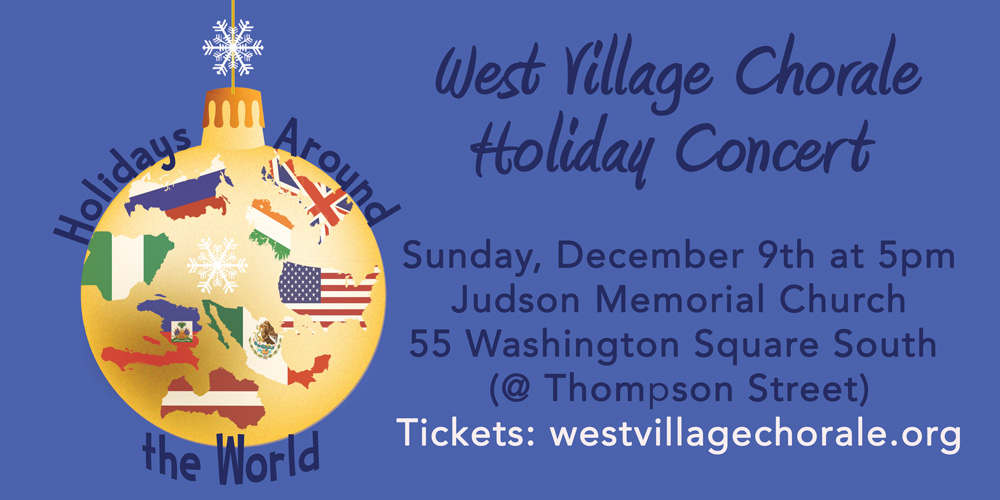 ---
Support the WVC!
There's still time before year-end to make a tax-deductible donation to support the Chorale in our musical endeavors!  Thank you for your continued generosity—we can't do it without you!
We're also excited to announce we've recently launched our first GoFundMe Campaign to fund a new set of risers for our performances.  We've happily welcomed some wonderful new members to our ranks over the past several years…to the point that our current risers, lovingly handmade by a long-time member, are no longer sufficient to support us (literally!).  Help us rise to the occasion by chipping in—no amount is too small and all donations are greatly appreciated.